Speleobooks Online Catalog Updated January 13, 2011.

Go To:
Complete Catalog INDEX
for full list of EVERYTHING on our site.
Many new items to discover for any season...
Shop our site for the best and most original cave & bat merchandise. Capped shipped fees. Gifts with any order.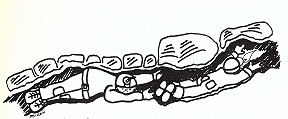 Speleobooks secure one-step online order form
Or Call 518 295 7978
Bat & Cave New Year Suggestions:
Books For Any Age, Bargains to Coffee Table
Shirts & Socks Galore
Items for under $10.00
Batty Ornaments
New Goods Including Shirts Recently Arrived
Goods for the Home or Office
Bat Jewelry Suggestions
Cave & Bats on a Budget...Sale & Clearance Features
Newest and Featured Books
Update Index
See Complete Catalog INDEX for full list of EVERYTHING on our site!
Secure Order Form

Bats Of Ohio
4th in the popular "Bats of" regional series. Full color illustrations highlight a manuscript with sections on bat conservation, keys to bats of Ohio, attracting bats, individual species descriptions and an index with diagnostic characteristics of Myotis species in the state. By Brack, Sparks, Whitaker, Walters & Boyer. 90pp, SB. 2010 $10.00

The Bat Scientists (Scientists in the Field)
Dr. Merlin Tuttle and his colleagues at Bat Conservation International at work. Bats fly the night skies in nearly every part of the world, but they are the least studied of all mammals. As the major predator of night-flying insects, bats eat many pests. Unfortunately bats are facing many problems, including a terrifying new disease. White-nose Syndrome is infecting and killing millions of hibernating bats in North America. But Dr. Tuttle, with the help of his fellow bat scientists are in the trenches--and caves--on the front line of the fight to save their beloved bats. For ages 10+. By Mary Kay Carson with photographs by Tom Uhlman. Hb, 80pp. $18.99
Bats at the Ball Game
The third in a great series of kids books. The bat vendors sell Mothdogs. They sing "Hang me up in the rafters, Hang me up by the toes, buy me some beenuts and Cricket Jack". By Brian Lies. Age 3 up, 2010, 32pp, hb. $16.99

Bats at the Beach/Library Plush Bat
The lead character from some of our favorite books, the delightful Bats At... series. Wing span 13", good for all ages. $15.00

Grottes et karsts de France (Caves and karsts in France)
Essential information about French karst regions (including territories in the Indian Ocean and on the Antarctic Islands.) More than 100 contributors have provided over 166 accounts, gathered together in a 360 page book. Though written in French, the more than 600 color illustrations (photos, cave surveys, sketches) give an easily understandable and astonishing picture of the French karst landscapes and cave systems. $68.00 Supply limited.

Vermont Caves; A Geologic and Historical Guide
(with a special supplement of Caves of the Eastern Adirondacks, New York)
Guide book to the 2010 NSS Convention. 150pp, pb, fold out USGS index of Vermont topo maps in back. Written by Peter Quick, NY section by Chuck Porter. $25.00

Wookey Hole
75 Years of Cave Diving & Exploration
Tells the stories of the Wookey Hole Divers, first hand, from the 1935 expedition led by Graham Balcombe using hard-hat diving gear to the present day work by modern cave divers using innovative mixed-gas rebreathers to dive deeper and further under the Mendip Hills. profusely illustrated in colour and black & white, with many never before seen photographs. Edited by Jim Hanwell, Duncan Price and Richard Witcombe. 386pp. HB. $75.00

SPELEO PROJECTS 2011 Caving Calendar
A selection of wild and tourist caves from around the world. The monthly pages provide a glimpse into the caves of France, Germany, Laos, Mexico, Spain, and the United States. Included bonus postcards feature showcaves of the Bermuda Islands, France, Germany, Italy, Switzerland and the United States. $15.95

From Forests to Deserts; A Journey in the Caves of Mexico
A beautiful book from the La Venta Geographical Association, 2009, hb,155pp, fully illustrated, $40.00

Crystal Giants in the caves of Naica
A report on the Cueva de los Cristales near the small mining town in the northern Mexican state of Chichuahua. A forest of crystals, the biggest ones on the Planet. A cave with a temperature of 50 °C and 100% humidity; without protection, visitors can survive just a few minutes. 48pp, hb. 2008. Published by the La Venta project. $23.00

Caves Of Sky
A Journey In The Heart Of Glaciers
With this marvellously illustrated work, the La Venta glacial speleology exploration team shares with us the precious memory of more than 20 years of impassioned exploration of "caves of sky" all around the world. Extraordinary, evocative black and white illustrations. 2007. 156pp. $44.00 Sale $38.00

Blind Descent
The Quest To Discover The Deepest Place On The Earth
Even one of Bill Mixon's famously acerbic reviews admits of this book..."the subject is a fascinating and, yes, exciting one...and cavers will enjoy reading it." "It" being the story of two long term caving projects to "go deep" in Mexico and The Republic of Georgia. Many familiar faces from the caving community populate this account of what can be fairly described, without hyperbole, as an abundance of epic caving presented in a well organized narrative. By Tabor. 286 pp., hb., 2010. $23.00

Entering The Stone
On Caves and Feeling Through the Dark
A non caving writer tries to fathom why we cavers do what we do. Along the way, she pursues introspection on death, fear, loathing and some other more upbeat topics with a writer's stab at philosophy as inspired by past and present reaction to caving experiences. Some not-bad descriptions of caves and cavers' motivations and experiences along the way. We at Speleobooks enjoyed the journey. 170pp. By Barbara Hurd. Pb. Sale $8.00

Beyond the Deep: The Deadly Descent into the World's Most Treacherous Cave
The riveting story of the exploration of the sumps of Huautla by Bill Stone & Barb am Ende with Monte Paulson. Illus, 2002, hb, 352pp. $24.00 Sale Price $15.00

Karst Rock Features
Karren Scupturing
30 authors expanding on 26 pages of references are used by editors Gines, Knez, Slabe and Dreybolt to compile a considerable examination of karst related rock forms with examples from around the world. Published in English by ZRC of Slovenia this comprehensive effort has work from many of the usual suspects and dramatic locales from Tsingy, through the southern Kanin platueau in the Western Alps, monsoon karren in Australia, pinnacle karst of Mount kaijende to Sicily and beyond examined in a scientific light. Color photos, illustrations abound. 560pp., 2009. $88.00

Atlas of the Great Caves and the Karst of Southeast Asia
BHB volume 40-41. Michael Laumanns & Liz Price (Editors). 344 pages, hundreds of cave descriptions, cave surveys and maps; Berlin 2010. The "Yellow Pages" of caving in SE Asia. Each country is presented in detail including topographic and karst occurrence maps as well as a description of the geological settings, the history of speleological exploration, a detailed list of the longest and deepest caves (incl. surveys), a list of useful addresses and an in-depth bibliography. Some countries also have maps showing the administrative divisions and other relevant thematic maps.Vol. 40 covers: Introduction & Brunei - Malaysia (174 p.).Vol. 41 covers: Myanmar – Vietnam (170 p.).In English language. With a German and French abstract. $44.00 set or $22.00 each.

Karst and Caves of Myanmar
BHB volume 39. 130 pp., colour maps, many surveys; Berlin 2010. Michael Laumanns (Editor). Everything on the caves and the karst of Burma. Descriptions of over 280 underground sites, including man-made underground temples. ALL available cave surveys, many of which are published for the first time. Has location maps, an in-depth bibliography as well as a synoptic list of caves according to provinces. The compilation also has chapters on cave archaeology, and biospeleology, including cave-dwelling bats. In English language with a German and French abstract. $22.00

The Unknown North of Laos. Part 3 – 2009-2010: Karst and Caves of the Provinces Houaphan and Oudomxay.
BHB volume 38. Joerg Dreybrodt & Michael Laumanns. 132 pp, colour photo tables, many maps and surveys; Berlin 2010. Presents the results of the 2009 – 2010 international expeditions to northern Laos. 28.3 km of cave passage from 39 caves. Includes the new longest cave of northern Laos (Tham Chom Ong System), which is also the 2nd longest cave of Laos and the currently 9th longest cave of SE Asia. Has chapters on physico-chemical water analysis, speleothem dating as well as biospeleology. In English language with a German and French abstract. $22.00 Check the Speleo Publishers section for other recently added BHB titles.

The Bats of Europe & North America
"Knowing them, Identifying them, Protecting them." An excellent general book on bats. Well illus. including face, ear and tail details. By Schober & Grimmberger, 239pp, 1997, hb. $29.50 Sale $15.00

Pesteri din Romania un tezaur care merita 2D/3D
(Caves of Romania a worthy treasure 2D/3D)
Text in Rumanian & English. 160 pages of spectacular photographs, about half of which are in 3D. Several contributing photographers with text by Dr. Bogdan Onac. Glasses included. $55.00
Batty Ornaments
Update Index
See Complete Catalog INDEX for full list of EVERYTHING on our site!
Secure Order Form

Peruvian Carved Gourd Bat Ornaments
Traditional designs on a holiday ornament. Choose Light or Dark (shown) background. Each carving is slightly different. $8.00

Mola Bat Ornament
NOW AVAILABLE. Varied, handmade ornaments. Specify "dark body" or "bright body". $12.00

Glitter Bat Ornament. Five inches. $2.00

Recycled Aluminum Bat Ornament
Four inch wingspan. $6.99 See More Ornaments
Gifts Under $10.00 and Stocking Stuffers
Update Index
See Complete Catalog INDEX for full list of EVERYTHING on our site!
Secure Order Form

Bat Dice Game
Extensive bat facts sheet accompanies instructions. Each player rolls five dice to deterimine how many and what kind of insects are eaten each "hour" of the match. Winner has the biggest night out in ten "feeding" turns. $5.00

Avant Bat card or photo holder
Holds photos or business card in a 1.5" high 3" wide bat. $3.00 each
Click on card to open
Batty Pop-up Card
An entire flight of bats soars out of the opened card. Greetings from the world of winged mammals. Includes envelope. $6.00 each.
Dress right for your next party or just let the inner bat fly with this fun, happy bat face mask. Generous enough size for adults. One sure non-toxic way to keep biting insects fleeing in terror. Thirteen inch wingspan. Made of durable foam. $5.00

Bat Balm
For lips and more. 8 ml. beeswax and petroleum jelly. Handy key ring fastener on dispenser. $4.00
Leather Bat Barrettes

Leather and stick barrettes just like the kind I used to wear in the 60s only now they are bats! Will hold a large ponytail. Choose Black, Brown or Tan.
$4.00 each.
Preview of New Goods Coming Soon
Now Available (except as noted)
Update Index
See Complete Catalog INDEX for full list of EVERYTHING on our site!
Secure Order Form

Caves & Bats "Holiday Stocking" Arpilleras
Fabric art from Peru, with a peaceful valley night scene depicting a cave in the hillside with an overflight of bats. 12 inches tall. $36.00

Embroidered adult size polos in heather gray and Embroidered 1/4 zip adult fleece in black with charcoal trim. Sizes Small through XL Embroidery is front left on each.
Polos $18.00
Fleece $25.00


Bat Words Shirt
Adult short sleeve tee shirt in Chestnut color $15.00
Adult long sleeve tee shirt in royal color (rollover image) will $18.00

Flying Fox Art Print Tee Shirt
Adult sizes on natural color, 100% cotton pre-shrunk shirt. $15.00

Guano Happens Infant Creeper
Available in 6 month, 12 month, 18 month and 2T sizes. $15.00

Planet Bat Shirt
Return of a hot favorite in a fresh new color.
Adult Tees on Mustard (as shown) Adult T size M, L, XL, XXL $16.00
Youth sizes on Red Tees XS, S, M, L & XL $12.00

Bat Wisdom Tee Shirt
A chocolate shirt encouraging acceptance of bats.
Adult sizes S, M, L & XL $15.00
Youth size XS, S, M, L $13.00
Shirts & Socks Galore
Update Index
See Complete Catalog INDEX for full list of EVERYTHING on our site!
Secure Order Form

Advice From A Cave Adult T-Shirt
Get in touch with your inner caver self. On forest green, 100% pre-shrunk cotton. 2010 NSS Salon Blue Ribbon Merit Award Winner in Vermont! Small through XL $16.00. XXL $17.00


"Advice from a Cave" cap $16.00

North American Bats
A beautiful navy blue shirt featuring seven species in flight on the front and in detail on the back. 2010 NSS Salon Medal Award Winner in Vermont!
Adult: Small, Medium, Large and XL $18.00, XXL $20.00
Youth: Extra Small, Small, Medium and Large $14.00


Peace, Love and Bats
Tie died T-shirt.
Adult S, L, XL. $18.00, XXL $20.00
Youth S, M, L $15.00
Just Arrived: Click To View New Shirt Styles....
Glowing Bats Socks

A fun design available in standard woman's size only. 70% acrylic, 25% polyester and 5% spandex.
$5.00
Thin Black Dress Socks
With gray & brown bats.
Sizes 9-11 or 10-13
$7.00

Speleosock
A speleobooks exclusive, 42 % acrylic, 33% wool. Great for caving. Calf high. Sock size 9-11 (womans), Sock size 10-13 ( mens) . $12.00

Night Flight Socks
Gray wtih night flight of bats. 75% Acrylic, 25% Stretch Nylon. Sock sizes 9-11 (standard woman) or 10-13 (standard man). $7.00 per pair.
Gifts for the Home or Office
Update Index
See Complete Catalog INDEX for full list of EVERYTHING on our site!
Secure Order Form

Hand Crafted Bat Kitchen Clock
Made in the USA by a northeast regional artist specializing in fanciful sculptures/clocks made from common items. $110.00 New in 2011.

Peruvian Gourd Bat Plata
Each 9 inch plate is hand etched folk art. Ideal for wall hanging. $32.00

Garden Moon & Bats Weather Vane
Mounts in the ground. 18" cast bats & moon mounted above cast cardinal compass points. A durable garden or yard sculpture. Also available as a roof mountable unit. Specify when ordering. $59.00 ($12.00 shipping for this item)

Balance Bats Moving Sculpture
A fantastic sculpture with flying bats perched on a stand. Good for indoors or out. 23" high with a wing span of 14". $59.00 ($10.00 shipping for this item)

Batty Coat Hooks (Returning to stock in the Spring) $12.00

Brushkin Hanging Bat
Cute and realistic bat made of all natural materials. Tail to ear 4". feet are hooks so he can be hung almost anywhere. $12.00
Long-nosed Bat
With 18 inch cloth wings.
$12.00
Sale $7.00
Koko Bat
Handmade fabric bat. Beautiful, fanciful design, from India. Wings button in resting position. Expansive 24 inch wingspan. $75.00 Now only $38.00
Little Ugly Ice Bat Plush Doll

He wants to hang out with you...or just hang upside-down, if that's OK with you! Ice Bat is there for you when you feel like you may be loosing your cool, or feeling like a fool. Don't panic! Don't stress! Grab Ice Bat and put him to the test. Choose Black or Red.
$10.00
Bat Jewelry Gift Suggestions
Update Index
See Complete Catalog INDEX for full list of EVERYTHING on our site!
Secure Order Form
Bat and Moon pendant Three layers of cloisonne enamel show off this bat against a moon. The pendant matches Bamboo's Bat in the Moon Light earrings and pin. The chain is adustable 16" to 20" in Sterling silver. $38.00


Earrings $42.00


Pin $48.00

Coconut Shell Bat Earrings
Hand made in Costa Rica. Specify Medium or Dark shade (see rollover image) $8.00

Bead Art Bats
Beautiful beadwork hand made in Thailand, Wingspan 2". Earrings $16.00, Necklace on a cord, $12.00
Washi Bat Earrings
Handmade from traditional Japanese paper. Lacquer finish with sterling silver wires. Each slightly different. Five basic designs to choose from. Comes boxed with design information. Rollover images for enlarged view. Order by Washi style number. $13.00
Austin Bats Designer Jewelry
Hand crafted in sterling silver or gold. Choose from amethyst, citrine, blue topaz, smoky quartz, peridot, garnet or onyx. Choose anodized or bright sterling. Pendants have 18" chain. Also available in gold with emerald, ruby or diamond. (inquire for prices)
"Austin Bat"
"Bridge Bat"
"Free-tail Bat"Available as Pendant (shown)
or
Silver Wire Earrings. $105.00/pair
"Austin Bat"
J B Design Bat Earrings
A delicate cutout design earring with a variety of color beads above the bats. Earring are brass color. $12.00
Hand Painted Porcelain Bat Drop Earrings
One inch wingspan. $12.00
Cave & Bats On A Budget
Update Index
See Complete Catalog INDEX for full list of EVERYTHING on our site!
Secure Order Form

Handcrafted Wooden Inlay Cave and Bat Scene Keepsake Box
Size Small, 1 by 1 1/2 by 2 inches. $15.99 Holiday Sale $12.00
Size Medium, 1 3/8 by 2 3/8 by 3 1/2 inches. $26.99 Holiday Sale $19.00

Cavers Vision T-Shirt
Spectacular, realistic full color art by Jerry Wallace on a black shirt in adult sizes. Large design on front.Youth Sizes S, M, L $12.00 Holiday Sale Youth $8.00
Bats of North America T-Shirt
Includes these bats in accurate drawings: Pallid, Little Brown, Hoary, Townsend Big Eared, Grey, Red, Spotted , Eastern Pipistrelle, Lesser Long-Nosed, Mexican Long-Tongued, and Brazilian Free-Tailed. In adult sizes on a sand colored shirt.. Large design on front.
Adult sizes S, M, L or XL $18.00
Holiday Sale $12.00
Youth Size Large only. $12.00
Holiday Sale $8.00


Colorado Caves: Hidden Worlds Beneath The Peaks Price Reduced
A fantastic picture book with photos by David Harris. Includes discovery, exploration, history, scientific study, commercial development. conservation, and more. By longtime Colorado caver Richard Rhinehart. 144pp, pb. $24.95 ONLY $7.50

Dark Life
Martian Nanobacteria, Rock-eating Bugs, and other Extreme Organisms of Inner Earth and Outer Space
An amazing look at the unseen in caves and elsewhere. A really good read by Michael Ray Taylor, hb, 287pp, 1999, Originally $20.00, Now only $12.00
Free Gifts With Every Order
You will receive as many as 3 of these popular items with your order at no additional charge! (Details and selection on order page.)
Gift Options: 1) Pewter Bat Pendant on a cord with a colored bead. Bat is aprox. 1.25 " wingspan. 2) Caver Float Pen, "Crawl 'Till You Bawl. 3) Magnetic shopping list pad with 50 pages. Topped with art by Fiona Reid. 4) Sticker set, Speleobooks three favorite sticker; I love Bats, I'm Batty about Bats and Bat Protection Squad. All produced for outdoor use.5) Frankie the Free-tailed Bat by Nyta Hensley and Patricia Morton. 34 pages in English then flip it over for the same story in Spanish. 6) 2 Vertical Caver Stickers.
See Complete Catalog INDEX for full list of EVERYTHING on our site! Secure Order Form
To the best of our abilities everything listed on this site is kept on hand and available for immediate shipping. Answering the frequent question, we can report that, yes, we really do have all this stuff! However, some items are only available in limited quantities. In the event an item or size is not available we will let you know at once. Email: speleobooks@speleobooks.com

The New Page is a list of updated items. Use the catalog index to find all the items in each category.

Printed Catalog Available