Scroll down for a selection of rare original bat lithographs. On acid free mattes, untrimmed.
Order by item number and title. Use speleobooks simple, secure, one-step order form or call 518 295 7978 before 9 P.M. Eastern time. Shipping for all prints is $8.00 for size 10 x 12 or under. Shipping for larger prints is $16.00. Multiple prints will be shipped together for the price of one. Subject to availability.
The following prints are from Buffon Natural History. There were many editions. These are circa 1750. Several different artists and engravers. $28.00 each.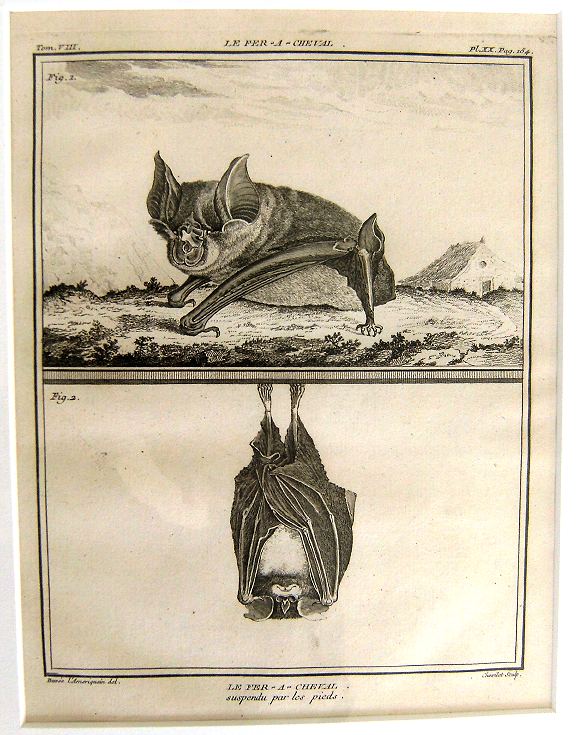 La Fer-A-Cheval B1 $28.00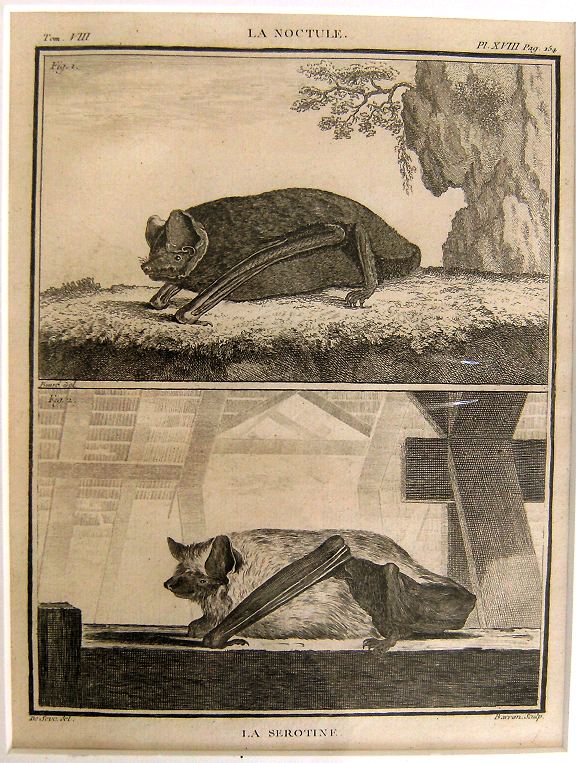 La Noctule La Serotine B3 $28.00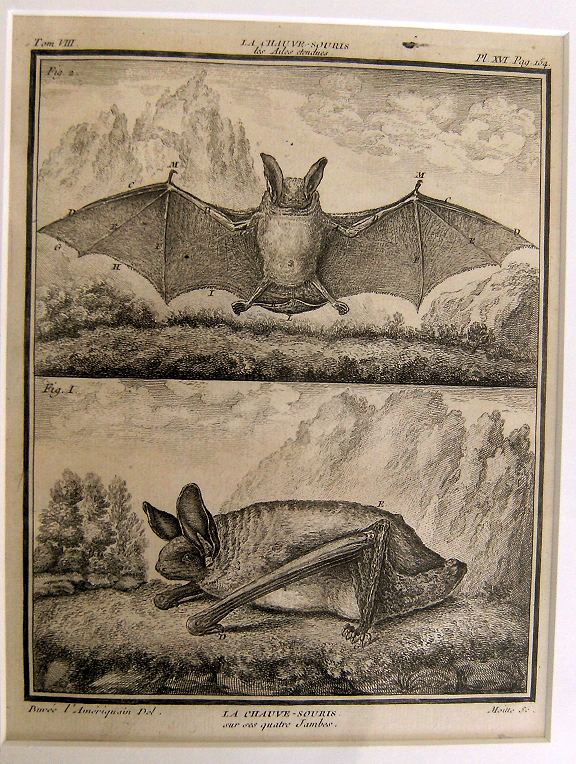 La Chauve Souris B4 $28.00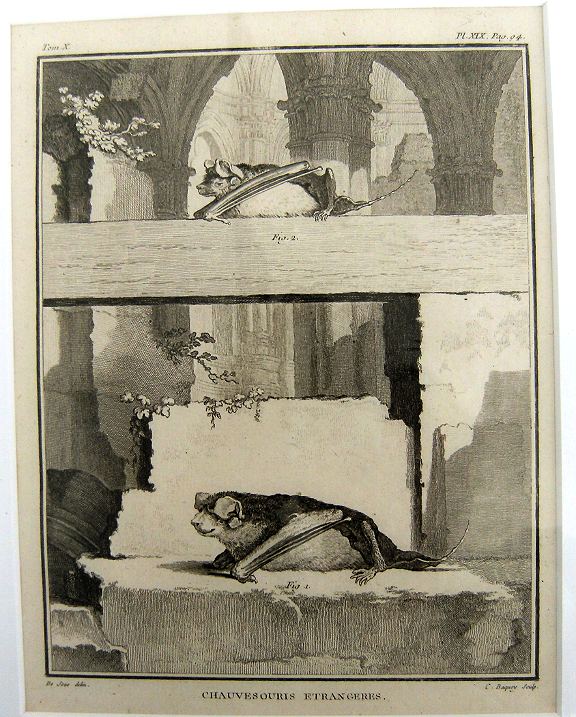 Chauve Souris Entrangeres B5 $28.00

#P32. La Roussette. $28.00

#P35 Cayene Bat, Notch-eared bat Slender bat and Rufous Bat by Fullerton, Circa 1865, $45.00

#P36 Roufsette, d'dewards, By Ordart, engraved by Founier, Circa1848, $45.00

#P41 Artist Carl Brodtman from Natural History of Mammals, published in several editions from 1827 to circa 1850, image 11 x 7. Image in black and white $100.00

ANIMALI QUADRUPEDI
Title page of early italian quadraped natural history. Printed in Venice, 1773. Image size 10 1/2 by 14. Full margin. Clean and crisp. $175.00 Order item P23

PIPISTRELLI DI VARJ PAESI
Engraving of early italian quadraped natural history. Printed in Venice, 1773. Image size 10 1/2 by 14. Full margin. Clean and crisp. $350.00 . Order item P21

PIPISTRELLI AMERICANI
Engraving of early italian quadraped natural history. Printed in Venice, 1773. Image size 10 1/2 by 14. Full margin. Clean and crisp. $350.00. Order item P22
PIPISTRELLO
Engraving of early italian quadraped natural history. Printed in Venice, 1773. Image size 10 1/2 by 14. Full margin. Clean and crisp. $350.00 Order item P24

PIPISTRELLO FERRO DI LANCIA, FERRO DA CAVALLO
Engraving from early italian quadraped natural history. Printed in Venice, 1773. Image size 10 1/2 by 14. Full margin. Clean and crisp. $350.00. Order item P25
Simon Batt & Co. Cigar Label. $250.00. Order item P11